Taunton's Hydrographic Office to lose 100 jobs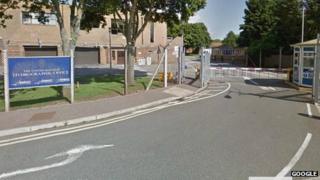 Almost 100 people are to lose their job at the UK Hydrographic Office (UKHO) in Taunton.
The agency, which sells navigational products and services, said it needed to make "significant savings" to "offset changing market conditions".
A UKHO spokeswoman said the affected staff would leave before the end of the financial year.
She added sales of its products to the global shipping market were responsible for 90% of the agency's revenue.
'Competitive and sustainable'
Further reductions in staffing will be achieved through retirement, reducing external recruitment and filling vacancies by "re-skilling" people where possible, the company said.
"The scale of savings requires a reduction in headcount and the voluntary nature of this scheme allows UKHO to re-size and re-shape for the future while giving staff a choice whether to apply for early release," the UKHO spokeswoman said.
"UKHO is committed to remaining a long-term employer in Taunton and a world-leading hydrographic office.
"As a self-funded Ministry of Defence Trading Fund, with 90% of its revenue from commercial sales of navigational products and services into the global shipping market, the only way it can achieve this goal is to remain competitive and sustainable like any other business," she added.
UKHO produces nautical charts and navigational services of the world's oceans and ports to support world shipping, including the Royal Navy, both on paper and electronically.