Somerset speed cameras back on after cash row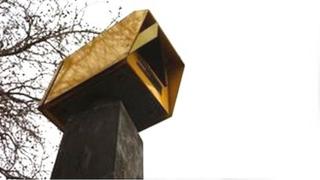 Six fixed speed cameras will be turned on again in Somerset following a row over who should pay for them.
In September, council leader John Osman wrote to police saying he "did not believe there was a compelling case to reintroduce fixed site speed cameras".
He told Avon and Somerset Police he would not accept Chief Constable Nick Gargan's offer to buy the sites for £1 but offered instead to rent the sites.
Somerset Council said it had now agreed to Mr Gargan's offer of £1 each.
In the letter, dated 30 September 2013, Mr Osman said that as he had to find savings of £106m over the next four years he was "reluctant" to commit council officers' time and expense in assisting with Mr Gargan's plan for installing new cameras on the old sites.
'Cost-neutral'
The chief constable and the council have now agreed the police will take responsibility and ownership of the cameras and run them on the proviso that no costs are incurred by the council.
Councillor Harvey Siggs, who is responsible for transport, said the authority would continue to work with the police to improve road safety and reduce speed at known casualty sites.
"The police have agreed to take full responsibility for the cost and maintenance of the fixed safety cameras and will enforce all speeding offences, and we support them in their decision," he added.
Supt Ian Smith said there is currently more than £2m worth of camera infrastructure lying dormant on the roadsides in the force's area.
"We believe that the static cameras can be operated in a cost-neutral way and that reactivating them for use alongside our mobile camera vans will help in making our roads safer," he added.
The cameras were turned off in 2011 after the area's safety camera partnership was dissolved.