Badgers rescued from flood water on Somerset Levels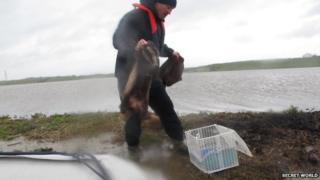 Two badgers have been rescued from flood water on the Somerset Levels months after many of the animals were culled in the county.
The badgers were found on a small slip of land surrounded by water by staff from Secret World Wildlife Rescue on Monday.
They have been named Noah and Storm and are now being cared for at the wildlife sanctuary's Highbridge base.
Two other stranded badgers swam away and have not been found.
Secret World's Pauline Kidner said: "They have been without food for so long and were sodden and cold.
"We are very concerned that so few wild animals have been found which is why it is so important that we help the survivors.
"With little foraging available to so many species, there will be a huge reductions of wildlife surviving into the rest of the year."
A six-week badger cull pilot scheme in Somerset in 2013, which was being carried out to reduce the spread of tuberculosis, failed to meet its target.
The cull ended with an estimated 65% reduction in the badger population in the west Somerset cull zone - the target was 70%.
A nationwide cull is yet to be confirmed by the government.