Somerset Levels floods: Land 'will take two years to recover'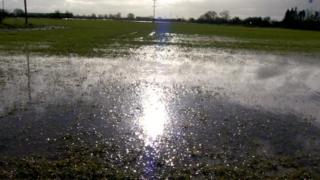 It could take up to two years before farmland on the Somerset Levels fully recovers from floods, experts said.
Standing water is preventing oxygen getting to the land beneath, killing nutrients and insects and making the ground toxic.
The experts - known as agronomists - said farmers will not be able to grow crops worth any money for over a year.
Farming insurer NFU Mutual said it was already dealing with more than 8,000 claims.
James Winslade, who farms at Moorland, near Bridgwater, said water was 14ft (4m) deep in places on his land.
"We're not going to be doing anything with the land this year. It'll be a complete write off," he said.
'Very serious'
NFU spokesman John Hebditch said that when the waters subside the priority will be for farmers to get the land into a productive state.
He added everything will need re-seeding, which is unlikely to be possible until the end of the year.
Agronomist Stuart Fripp said when the flood waters eventually recede "that will just be the start of the problems", because the full extent of the damage will be revealed.
"You're then looking at two or three years of trying to get the land back into any kind of production," he said.
"It's sitting under metres of water in places, exerting a huge weight on the ground.
"It's squeezed the life out of it - it's killed the bugs, the microbes, it's killed all the good things in the ground that we need to produce food for the crops."
"It's very serious. Farmers could be out of production for years."