Somerset County Council boss Shelia Wheeler leaves "by mutual agreement"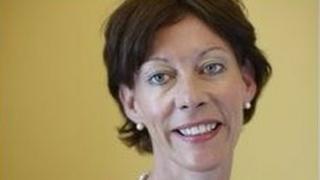 A council chief executive in Somerset, who has been absent from her £160,000-a-year job since November, has left the authority "by mutual agreement".
Sheila Wheeler has not worked since before the flooding crisis began, with the BBC being told she was on holiday, off sick and "away from the office".
Her deputy, Patrick Flaherty, will cover the chief executive duties until a replacement is found.
Ms Wheeler will be paid £40,000 for the three months notice she has been given.
'Staffing reductions'
She replaced previous chief Alan Jones who took early retirement in July 2009, shortly after the Conservatives took control of the authority from the Liberal Democrats.
In a similar situation the council said, at the time, it had come to "an amicable agreement" with Mr Jones and some £340,000 was spent replacing him.
Throughout Ms Wheeler's recent three-month absence, deputy chief executive Mr Flaherty has led the local authority's response to the flood crisis on the Somerset Levels.
Her prolonged absence was raised in the House of Commons last month by the Liberal Democrat MP for Somerton and Frome, David Heath.
He urged the Leader of the Commons, Andrew Lansley, to ensure ministers intervened in the matter.
In a written statement, the council did not give the reasons for Ms Wheeler's departure, but said it wished her well for the future.
"Sheila's arrival at the council in February 2010 coincided with the first austerity measures coming into force resulting in major budget cuts," it said.
"She led the council through a prolonged period where significant service and staffing reductions had to be made.
"Sheila has also brought major changes to the way the council operates and is run and we wish her well for the future."