Somerset flooding: Centre distributing supplies opens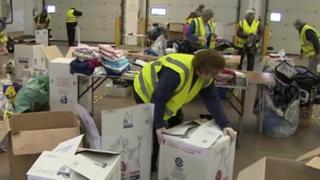 A new centre has opened to help distribute supplies to people affected by flooding on the Somerset Levels.
The centre, at Huntworth Business Park at Bridgwater, will open every day for donations and collections of supplies including toiletries, books and toys.
Bryony Sadler, whose home in Moorland flooded weeks ago, helped set up the relief effort.
"The scale of this is enormous - we're looking at going home at Christmas rather than summer now," she said.
Mrs Sadler is a member of Flooding on the Levels Action Group (Flag), which started as a Facebook page calling for proper dredging of rivers but quickly grew into a point of information for people affected by the floods.
Flooding headquarters
"Our home was evacuated on 5 February when we had helicopters flying overhead telling us to get out," said Mrs Sadler.
"We threw anything we could into the back of the car and moved into a holiday let and we've run the [Flag] HQ from here too.
"I'd have done anything to save my home - until you've seen it you don't appreciate what people are going through."
A new flooding headquarters has been set up by Somerset County Council in the old Burrowbridge Primary School in Bridgwater as the main point of contact for information about the floods.
Meanwhile, an appeal to raise money for victims of the flooding in Somerset stands at more than £385,000.
Somerset Community Foundation, based in Shepton Mallet, made the appeal "to get communities back on their feet".
After raising £200,000 in a month to "relieve the immediate hardship" of those affected, the foundation last week set a new appeal target of £250,000.
Somerset County Council said about 150 properties in the villages of North Moor, Salt Moor, Fordgate and Moorland had been affected by flooding.