Somerset floods: Four pumps back on after river damage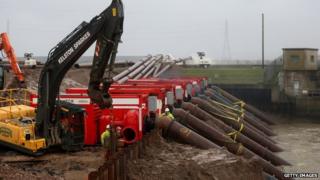 Half of the high capacity pumps being used to shift flood water in Somerset are working again after being switched off due to riverbank damage.
The eight pumps at Dunball are being used to bypass the sluice by the River Parrett and King's Sedgemoor Drain.
To protect the banks of the Parrett from the high volume of water being discharged, rocks in metal cages have been placed to absorb the impact.
It is not yet known when the remaining Dunball pumps will be turned back on.
A total of 13 Dutch pumps were brought in by the Environment Agency to speed up the movement of water from the Somerset Levels drainage channels.
Five pumps at Beer Wall near Bridgwater are still waiting to be turned on.
The original plan was to run the pumps at Dunball for a few days before levels had been reduced enough for the ones at Beer Wall to be turned on.
But those plans have been delayed due to the riverbank damage caused on Saturday.
The agency now expects the Beer Wall pumps to be turned on towards the end of this week.