Shrien Dewani 'step closer to extradition'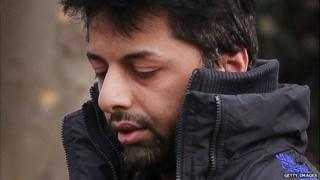 The South African government says it will indicate how long Shrien Dewani, accused of organising his wife's murder on their honeymoon, would be kept in the country without trial.
It is thought giving the undertaking could move the possibility of Mr Dewani's extradition to the country a step closer.
Mr Dewani's lawyers may still appeal to the UK Supreme Court.
He is currently being treated in a Bristol hospital.
A panel of High Court judges ruled last month that it would not be "unjust and oppressive" to extradite Mr Dewani, despite his illness, if an undertaking was given by South Africa.
Mr Dewani, who is compulsorily detained in hospital under the Mental Health Act, is accused of ordering the killing of his new wife Anni, 28, on their honeymoon.
South African Xolile Mngeni was later convicted of premeditated murder and jailed for life. Prosecutors allege he was hired by Mr Dewani to kill his wife.
Mr Dewani has always denied the accusation.
A spokeswoman for the South African judicial office said: "The court has received a letter from the South African government stating that they will be providing an undertaking which will be with the court on 21 February as directed in the judgment."
Mr Dewani, from Bristol, has been fighting removal from the UK to face proceedings over wife Anni's death until he has recovered from mental health problems, including severe depression and post-traumatic stress disorder.
His lawyers have said at various hearings that he will be willing to defend himself at trial once he is fit to do so, but they say he is unfit to plead under English law and his "prognosis is not certain".