River levels rising in Somerset following heavy rainfall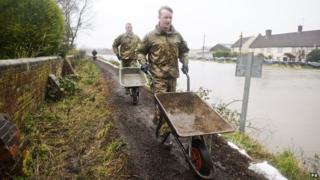 Some river levels have risen in Somerset following heavy rainfall, the Environment Agency has said.
It said at present the water levels on the Levels and Moors were stable, but expected to rise later.
Six pumps from The Netherlands are removing water from King's Sedgemoor Drain to the River Parrett at Dunball.
The agency has issued 23 severe flood warnings for parts of Cornwall, Devon, Somerset, Dorset, Gloucestershire, Hampshire, Berkshire and Surrey.
On the Somerset Levels Royal Marines from 40 Commando have joined residents to fill sandbags, relocate pumps and help people save furniture from their homes.
About 65 sq miles (41,600 acres) of the Somerset Levels have been flooded for several weeks. So far 97 properties have been affected and about 100 people forced out of their homes
Meanwhile, the Queen has donated feed and bedding from royal farms to flooded farmers on the Somerset Levels. According to a spokesman for Buckingham Palace the Queen had sent supplies from Windsor.