UK floods: Agency criticised by Somerset home owners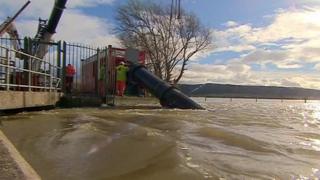 People still living in the flood-hit village of Moorland on the Somerset Levels have said the Environment Agency has not done enough to help them.
Most of the village has been evacuated but people living in about 14 properties have chosen to remain.
Some residents have accused the agency of abandoning work to protect homes from flooding.
An agency spokesman said work had been temporarily suspended for safety reasons on the advice of the police.
Resident Angela Greenway said: "Everything we've done we've done ourselves. There's been no help from the Environment Agency.
"We feel isolated. The Environment Agency have come in and they're raising the banks for us, but that is only the people on the ground who are helping us.
"Above that the co-ordination has been diabolical. There is basically none."
Another resident who has left her home, Katherine Langford, said: "We've had some information but mostly we've had to chase the Environment Agency every step of the way for all of the information we have actually managed to get."
Dutch pumps
A spokesman for the agency said: "At the time of the initial evacuation of Moorland, the police advised the Environment Agency that it was unsafe to continue working, so work was abandoned for the night.
"The Environment Agency returned the following day to complete the works and have been working... in conjunction with the army to place sandbags to protect properties in the village.
"Environment Agency staff have been working around the clock for many weeks to protect people and property from flooding.
"Had the residents wished to make contact, they could have done so via our Floodline number to report their concerns and the incident room would have responded appropriately."
Meanwhile Avon and Somerset Police said 100 tons of gravel was being brought in to Moorland to help repair footpaths, which are "one of the few ways in and out of the village".
Elsewhere the first of a number of high capacity water pumps brought in from the Netherlands are due to be turned on in Somerset for the first time on Thursday.
A total of thirteen pumps are being installed by the Environment Agency in Beerwall and Dunball.
The agency has said water levels have stabilised in the area. But with significant rainfall predicted over the next 24 hours, a spokesman said the situation was likely to change.
Two severe flood warnings remain in place in the Somerset Levels, at Salt Moor and North Moor including Moorland, and at A361 East Lyng to Burrowbridge.