Hundreds sign petition against Bath and Wells bishop move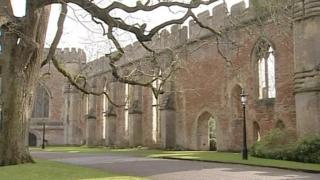 More than 2,000 people have signed a petition against plans to move the new Bishop of Bath and Wells out of a flat in the 800-year-old palace.
It was presented to the General Synod - the Church of England's ruling body - by Liberal Democrat MP Tessa Munt.
Church Commissioners argue the Right Reverend Peter Hancock would have more privacy if away from the palace and gardens, which are open to the public.
Ms Munt said the decision faced growing "outrage" and "universal opposition".
Bishop 'penalty'
"There is absolute outrage on the part of people in the Church of England and people who are not," she said.
"The previous bishop, Peter Price, was asked to make it [the palace] pay and to make it into a visitor attraction and that is exactly what he and his wife did," she said.
"It seems that the penalty is that we lose our bishop."
Some 61,100 people visited the palace last year. The grounds were also used for 53 events including festivals, fairs and outdoor theatre.
A modest flat on site has been used in recent years to house the bishop.
Now the plans are for the bishop to work and worship at the palace but live temporarily in a former rectory in nearby Croscombe while a permanent house is found in Wells.
The Diocese of Bath and Wells has said it cannot support the decision as a "persuasive case" for the move had not yet been made.