Moorland residents evacuated to rest centre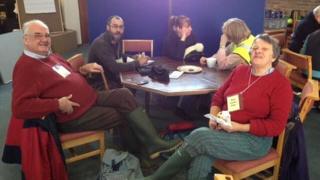 People living in Moorland were strongly advised to leave their homes after flood water breached temporary defences on the Somerset Levels. Where did they go?
The dreaded knock on the door came at about 01:30 GMT on Friday for the residents of Moorland, who were told they needed to evacuate.
Of the 80 homes affected, about 60 people left their properties and possessions and were brought to Westfield Church in Bridgwater.
It is just one of the rest centres that has been set up around the county, and the main one serving the people of Moorland.
About a dozen or so people started coming in to the large hall from about 02:30.
Tea and coffee was provided for them and there were a fair few biscuits doing the rounds as well.
There were a couple of young children, who were forced out of bed, bleary eyed, to be brought to the church.
There were even pet carry cases, containing cats and dogs, because, of course, people's pets have had to come in with their owners.
People have been offered help by a host of volunteers, who said there has been an outpouring of community spirit - and some offering to bake cakes.
Derek Taylor, who left his home in Moorland with his wife Barbara, said: "We're extremely tired, but we're coping, we are alright. I'm just absolutely pleased there is a centre like this, everybody has been absolutely wonderful.
"Nobody has left us alone really, they keep coming and asking us if we want tea, do we want biscuits, and we've just learnt now that they have given us a voucher to get a hot meal, so it is absolutely wonderful the way the people have been looking after us."
Representatives from Sedgemoor District Council and the Salvation Army have been giving out practical advice on accommodation and what to do next.
But with more rain on the way, they are expecting to keep the doors open to people for the next six to seven days.
Rest centre manager Jerry Milton said: "Members of the public must feel free to come here, if they leave their homes they will be looked after at the rest centre until we can find alternative solutions.
"Generally people are quite upset, obviously it is a bit of a shock that people have had to leave their homes and they are underwater.
"If people want to talk to us, then they can, but we are not quizzing people about what has happened, which is quite intrusive.
"It is obvious they have been flooded, not just today, but they have been experiencing this for a few weeks now, some people are feeling a little bit traumatised, a little bit down, so we want to provide a smiling face if we can."
Most people at the centre were waiting to see if there would be any chance of returning to their homes later.
While temporary accommodation is available, they said they wanted to try to avoid that if they could, and just get back home.