'Care improvements' at Bath's Royal United Hospital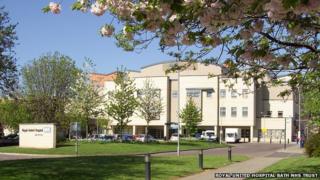 The Royal United Hospital (RUH) in Bath has made significant improvements to patient care, according to a new government report.
The chief inspector of hospitals said patients are now getting "safe and effective care".
The RUH was told it had six weeks to improve after a Care Quality Commission (CQC) inspection in December.
It was given a formal warning for the way it keeps patients' records and told to make urgent improvements.
The CQC report said, after a difficult spell, the RUH now provides "good quality care".
Significant change
The hospital was one of the first in the country to be inspected under radical new changes introduced by the government watchdog.
An inspection team spent two days at the RUH in December.
The chief inspector, Professor Sir Mike Richards, said the RUH had faced challenges in the past year.
"There was a high demand on its services and the hospital did not have always have the capacity to cope with emergency admissions," he said.
Professor Richards said the hospital has "demonstrated that it can lead significant change" and these changes have now "improved how the trust manages the demand on its services".
The report also highlighted a number of areas of good practice including A&E, dementia care and an "excellent" breast care service.
Chair of the CQC inspection panel Alistair Henderon said they were also very impressed with the seven-day service provided by the RUH, which ensures patients receive the same level of care at the weekend that they do in the week.
Helen Blanchard, the hospital's director of nursing, said she was "absolutely delighted" with the report's findings.