Will writer Keith Webber guilty of stealing £280,000 from clients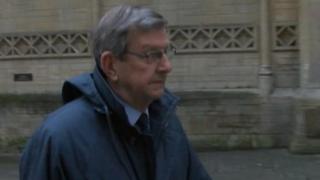 A will writer who stole more than £280,000 from clients over nearly three years has been found guilty of fraud.
Keith Webber, 67, of Chard, Somerset, siphoned the money while acting as executor and power of attorney for four elderly clients.
The jury at Bristol Crown Court found him guilty of six counts of fraud and theft.
Webber also pleaded guilty to downloading child pornography. He is due to be sentenced on Friday.
While they were still alive, Webber persuaded or deceived his clients into paying him large sums of money and withdrawing cash from their bank accounts.
After they died, Webber withdrew more money from their accounts.
The court was told Webber conned one man into buying him an £11,000 Jaguar car, and into buying Webber's wife a £3,000 funeral plan.
He then charged him a £150 agent's fee.
The victims included Webber's wife's sister and her husband.
Webber was told to expect a "considerable prison sentence".