Flooding: Most of Somerset 'open for business'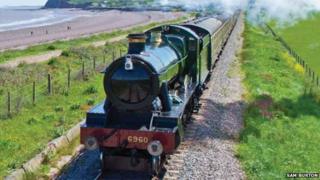 Tourist and business leaders in Somerset have said the county is "open for business", despite flooding on the Levels.
John Turner, from the Somerset Tourism Association (STA), said people wrongly "think the whole of Somerset is flooded and are staying away".
"We are very concerned about the long-term damage on our tourism industry.
"It's about perception rather than reality, and businesses across the whole county are being affected."
Mr Turner added that while they are "very, very upset for the villagers who are flooded, our members across Somerset are getting phone calls asking if they are still open".
"We are concerned as most of the county is unaffected by the flooding."
'Open and accessible'
Villages such as Muchelney have been cut off for almost a month and about 11,500 hectares (28,500 acres) of the Levels are flooded.
However Paul Conibeare, general manager of the West Somerset Railway, said he was "concerned that potential customers think the whole of Somerset is affected".
"We are getting a lot of questions from potential customers at trade shows and people are asking: 'Will you be open for half-term?'
"We have all suffered in some way, but most of Somerset is open and accessible."
Those businesses directly affected by the flooding say it has been devastating.
'Need passing trade'
Leonie Browning, who runs the Rose and Crown at Stoke St Gregory, said there had been a "huge drop-off of customers" because people cannot get to the pub.
"We're down about a third on takings. We'd hardly recovered from last year and have had to cut staffing. We employ all local people and it's not what you want to do."
Ian Dyer, chairman of the Federation of Small Businesses in Somerset, said they are pressing the government for support.
"Our members are feeling the knock-on effect of the flooding. These are not big businesses and, for them, it's a real struggle.
"They need passing trade and that's just not happening."