River dredging will not begin until flood waters recede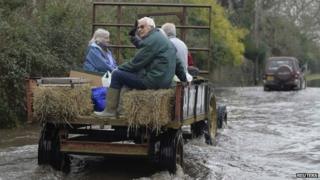 Dredging of rivers in Somerset will not begin until all flood water has drained off the Levels and river banks are safe, the Environment Agency has said.
Richard Cresswell, regional director, said the agency will need to bring in equipment to carry out the dredging.
Mr Cresswell added that bringing pumps in sooner would not have reduced the extent of the current flooding.
He said the agency must wait until river levels drop enough to allow water to be pumped into them.
On Wednesday the prime minister announced that rivers in the county would be dredged as soon as water levels drop.
Currently about 11,500 hectares (28,420 acres) of the Somerset Levels are inundated by about 65 million cubic metres of water.
Villages such as Muchelney and Thorney have been cut-off for a month because of the floods.
The Met Office has forecast heavy rain for the county on Friday evening, and has warned of "significant disruption" from more flooding across the Somerset Levels.