Poor safety putting 'lives at risk' along the River Avon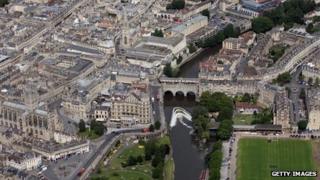 Broken ladders and submerged grab lines along the River Avon in Bath are putting "lives at risk" according to a councillor.
Independent councillor Dave Laming claims safety measures have not been completed - more than two years after a review said they should be.
The council said safety railings have been installed following the report.
Last week, 21-year-old Bath student Christopher Taylor died after getting into difficulty in the river.
Mr Laming said the Royal Society for the Prevention of Accidents (Rospa) report in 2011, which was commissioned following the death of another university student, James Bubear, highlighted a number of improvements which still have not been addressed.
Mr Bubear was one of several who have died along the River Avon in the past three years.
"It doesn't make a lot of sense when you're drowning to have to dive four foot underwater to find the grab line to bring it up with you to save yourself," he said.
"When you do manage to get up you manage to scramble across to a ladder which has no rungs on it."
Fourth fatality
David Dixon, from Bath and North East Somerset Council, said they had made vital safety improvements in response to the report.
He said a new stretch of safety railings along the river had been installed "everywhere that the Rospa report said needed fencing".
Mr Dixon said the council was prepared to make more changes if necessary.
He added that the council was in discussion with the Environment Agency and the River Canal Trust asking "are these grab lines the most suitable ones?"
Mr Taylor's death is the fourth river fatality in the city in recent years following those of University of Bath student Kharunigan Jayanatham; graphic designer Casper Flagg and student James Bubear.