Flood-hit rivers in Somerset to be dredged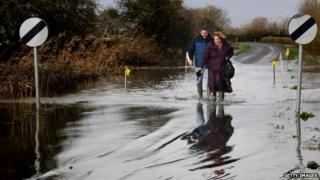 Rivers in Somerset are to be dredged as soon as the current high water levels drop, the government has said.
David Cameron made the announcement during Prime Minister's Questions, in response to a plea from Jeremy Browne, the Liberal Democrat MP for Taunton.
The Prime Minister said high-volume pumps would be brought in to help tackle the problem.
Somerset County Council leader John Osman said he was "delighted" with the announcement.
A meeting of the Government's Cobra emergency committee will also take place later, to discuss the crisis.
The Somerset Levels have been badly hit by flooding in recent weeks with villages such as Muchelney cut off for almost a month.
Mr Cameron said the current situation was "not acceptable".
"It's not currently safe to dredge in the Levels but I can confirm that dredging will start as soon as it is practical, as soon as the waters have started to come down," he said.
"The Environment Agency are pumping as much water as is possible given the capacity of the rivers around the Levels."
'Acute distress'
Mr Cameron said he had also ordered new high-volume pumps from the "national reserve" to be sent to the area "to increase the volume of the pumping operation as soon as there's capacity in the rivers to support that".
"We are urgently exploring what further help the government can give to local residents to move around and will rule nothing out in the days ahead to get this problem sorted," he added.
Mr Browne said the flooding was causing "acute distress" for residents, and asked for a "long term plan so this doesn't happen in the future".
Currently about 11,500 hectares (28,420 acres) of the Somerset Levels are inundated by about 65 million cubic metres of water.
Somerset's council leader said the prime minister's announcement was "just what we wanted to hear".
"We have lobbied hard to get national attention, we are in a major incident due to the extent and length of time that much of the county is flooded," said Mr Osman.
"Now we have the PM behind us, people can start to believe that real action, dredging the rivers, sorting the drainage systems, protecting our communities will really happen."