Bishop of Taunton calls for talks on palace move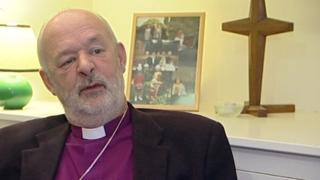 The Bishop of Taunton has called for more consultation over plans to move the new Bishop of Bath and Wells out of a flat in the 800-year-old palace.
The Right Reverend Peter Maurice said the Church Commissioners had not spent enough time before making "a major decision of this kind".
Bishop Maurice plans to put a question about the decision to the General Synod - the Church of England's ruling body.
The Church Commission said the move would give the bishop more privacy.
Under the plans the Right Reverend Peter Hancock will work and worship at the palace in Wells but he will live temporarily in a former rectory in nearby Croscombe while a permanent house is found in the city.
Bishop Hancock was appointed after the Right Reverend Peter Price stepped down in June.
"Living in the flat worked for the last bishop but at the end of a ministry there's always a review about where the next bishop should live," said Bishop Maurice.
"I want them to come and talk to us and listen to us."
On Friday Bishop Maurice and other senior members of the Diocese of Bath and Wells said they could not support the decision of the commission.
"If there is a persuasive case for the move, it has yet to be made," they said in a joint statement.
Bishop Maurice suggested Bishop Hancock could move into the flat for three to five years allowing time for "proper consultation".
"We want the commissioners to explain their decision in detail - the end of this has not been reached," he said.
A spokesperson for the commissioners said: "The decision to rehouse the bishop was a decision of the commissioners who consulted with the diocese."