Somerset Floods: Environment Secretary to visit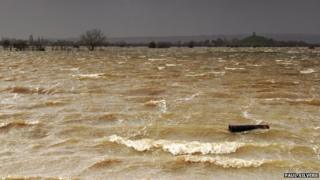 Environment Secretary Owen Paterson is due to visit Somerset to speak to organisations helping people affected by flooding.
It comes as heavy rain is forecast with a Met Office amber warning in place.
The fire service has said it can now get to almost all properties in cut-off Muchelney within 10 minutes in case of an emergency.
It was originally thought Mr Paterson would visit on Sunday but it has since been announced he will visit on Monday.
The Environment Agency is continuing to pump water from the Somerset Levels and has extra pumps working on Northmoor and Saltmoor.
It said there was 8mm of rain overnight on Saturday into Sunday and it was unlikely any new properties or new communities would experience flooding.
Confirming Mr Paterson will be visiting the area, a spokesman for the Department for Environment, Food and Rural Affairs said: "With more bad weather expected over the next few days the Environment Agency and local councils are making all necessary preparations.
"The EA's teams will remain out on the ground doing everything they can to assist the local community and help with the clean-up."
On Friday Somerset County Council declared flooding in Somerset a "major incident" and asked the armed forces to consider helping if needed.
Firefighters, the district council and St John Ambulance have been visiting people affected by the flooding to check they can be reached in case of emergency and take details of any particular problems they face.
Phil Martin, the area manager for Devon and Somerset Fire and Rescue, said two vehicles have been stationed either side of Muchelney to allow them to get to properties cut off by floodwater within 10 minutes.
"What we've also been doing over the last couple of days is going door-to-door to residents to establish what needs they might have in terms of additional support," he said.
"We're now able to get two six-wheel-drive fire engines to Muchelney and to the majority of the other effected hamlets, so it gives us the opportunity to transport both ourselves and other agencies and emergency services if we needed to."
Mr Martin said the flooding was not going to disappear in the next few days and that it was like to last for a number of weeks.
"It is about making plans to support these people as they recover from the flooding they are suffering at the moment," he added.
'So much effort'
The Reverend Jane Twitty, who looks after eight parishes including cut-off Muchelney, said maintaining normal was hard.
"Everything takes so much more effort and so much longer," she said.
"I've been over there and talked to people and listened to people... it's not easy when you hear about the troubles that they are going through and the strain they are under.
"We've had services in the church. The first week the people in the villages organised that themselves, and each house was named.
"They made a little model of each house as a prayer, to remember each house, and that is now before the altar in the church in Muchelney."
Residents on the Somerset Levels have said declaring the area a "major incident" has helped, but the continuing situation is taking its toll.
Bryony Sadler, who lives in Moorland, said: "The weather forecast is really against us.
"We have now got the [emergency] services on our doorsteps, offering help and it's scary. It's big time.
"Words can't describe it. It's just horrendous. It was horrendous last year and this is now equally as bad if not probably slightly worse.
"Mentally, I don't think people can stand it. Everyday life is upside down. When is it going to stop?"