Somerset floods: 'Precautions needed now'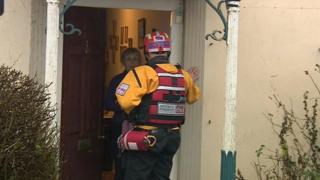 Precautions to stop damage to property and risk to life "need to be taken now" as further rain is predicted to hit Somerset, the council has said.
The "biggest pumping operation ever" is under way on the Somerset Levels, but much of the water is going into already swollen rivers.
Somerset County Council has asked the armed forces to consider helping villagers who have been cut off.
County and district councils declared "major incidents" on Friday.
The Environment Agency said the region had 8mm of rain on Friday, with a further 4mm expected on Saturday and 13mm on Sunday.
'Approached the military'
Somerset County Council said its priority was to keep people safe.
Leader of the council Jon Osman said: "We need to put everybody on alert - this is the Environment Agency, the government, the Army, the residents.
"We need to take precautions now to stop further property damage and risk to life, so all options are open at this moment in time to bring in any assistance that we need."
A major incident is declared where there is a situation which could not be dealt with easily by the local council and could threaten lives, disrupt the community or damage property.
Pat Flaherty, deputy chief executive of the council, added: "We are approaching the military now to say to the military 'is there anything you can do in addition to support us, to help access to these communities?'
"That is the request, and the military have said 'we are ready to look at that, and to assess that'. So if you like, that gives us more leverage and more clout."
The Met Office has issued an amber warning for rain on Sunday saying people living on the Somerset Levels should "be prepared for further flooding".
Ten additional pumps have been brought into the area over the last few weeks, with a total of 60 pumps working across the whole of the Somerset Levels area.
"The problem is when we can do the pumping, as it is a balance between pumping into already swollen rivers," an EA spokesman said.
"We've brought in the additional pumps to increase the capacity... we can pump huge amounts of water off - tonnes of water a second - but because everything is so saturated it can become a vicious circle."