Somerset faces more flooding as heavy rainfall predicted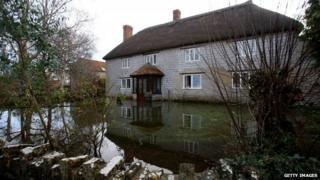 More homes on the Somerset Levels are facing flooding as water levels continue to rise, ahead of further predicted heavy rainfall.
The Environment Agency (EA) has issued a medium flood warning for areas including the market town of Langport.
Roads to the villages of Oath and Stathe are becoming difficult to drive and some houses have been cut off.
Council officials and emergency services have discussed a response to the rainfall warnings.
The Met Office has issued an amber warning for Friday and Sunday with 10-20mm (0.3-0.8ins) of rain expected on Friday alone.
The agency has warned of "significant disruption" on Friday and has issued a medium flood risk warning in Somerset over the next three days.
Flooding is expected particularly around Langport while Muchelney and Moorland are expected to remain cut off because of flooded roads.
Ian Liddell-Grainger, the Conservative MP for Bridgwater, said the county faced another "very, very difficult weekend".
A boat service to the villages will continue for as long as it is needed, the council said.
The service was due to end on Friday but, because of the continuing high water levels, it has been extended.
Councillor David Hall, deputy leader of Somerset County Council, said: "We will continue to fund and provide this boat service until the water levels recede sufficiently and we will continue to support them in these difficult times."
The situation has also been raised in Parliament where local government minster Brandon Lewis announced a "major incident" had been declared at the request of the council.
But Somerset County Council said this was categorically not the case and no major incident had been announced.
Meanwhile, farmers in Somerset are facing long-term problems as the flood water shows no sign of receding. More than 43 sq miles (27,000 acres) of productive farmland has been flooded in the county.
Graham Walker, who farms near Muchelney, said the floods could have an ongoing impact on his business.
"At the moment about 80% of our land is under water. It's not so much now, but we need it gone fairly quickly so we can get some grazing in the spring."