Bath pub evacuated as lorry's crane topples over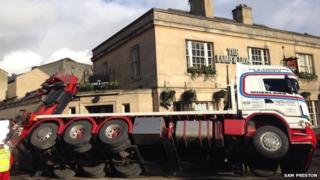 A pub in Bath had to be evacuated after a lorry and crane toppled over before coming to rest on its outside wall.
The crane was being used to deliver part of an electrical system to a building site on Lower Borough Walls when the lorry overbalanced.
Avon and Somerset Police said nobody had been injured in the incident, which happened at about 12:30 GMT.
An operation is being planned to lift the lorry and crane off the Lamb and Lion pub so damage can be assessed.
Sam Preston said on Twitter the incident was "causing havoc for traffic" in the city centre.
Station manager Chris Bailes, from Avon Fire and Rescue Service, said: "There were people in the pub at the time but fortunately no-one has been injured.
"The pub and the local area has been evacuated."
He added the road was due to be reopened by about 18:00 GMT, after the vehicle has been recovered.