Muchelney flood water pumping begins to relieve marooned village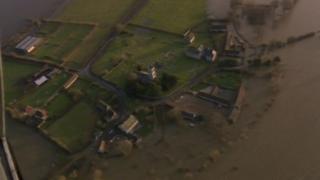 The Environment Agency (EA) has begun pumping water from flooded land on the Somerset Levels near the marooned village of Muchelney.
The village has been accessible only by boat for more than two weeks with nearly 5ft of water blocking the main road in and out.
The agency said work would continue day and night.
"We constantly monitor the levels to see where we can shift the water," said the agency's Mike Dunning.
"We will pump day and night if conditions permit, but it's a balancing act - you can't just move water from one flooded area to another," he added.
Toll on business
"How much we can do depends on the weather and any additional rain falling on the already waterlogged land."
In the village, some of the residents said life was becoming more challenging.
"Yesterday I had to go to Sherborne so (that meant a) boat through to Kingsbury then Land Rover to Sherborne to collect a couple of hundred weight of sausages - stick it on a boat then all the way back again," said farmer Graham Walker.
Villagers catch a boat provided by the county council to what they have dubbed "the mainland".
Bill Daniel who is in his 90s admitted to feeling a little trapped but added "we're surviving".
"In earlier days you could get a horse and cart out (but the water now is) deepest we've seen it," he said.
The flood water is taking its toll on business in the village too.
Paul Fleet, who runs a wedding venue that was partly flooded two weeks ago, said: "We can't get potential customers in to look at the venue, and we're not going to feel the effects of that until next season's business."
Despite the situation, the villagers seem determined to make the best of it.
"Everybody seems a lot closer together than they normally are and they're helping everyone out - it's brilliant," said Harry, 13.