Yeovil hospital opens older patient assessment unit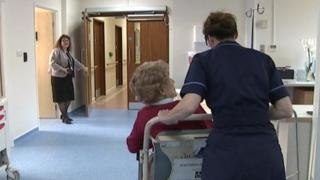 A dedicated assessment unit for older patients has opened at Yeovil District Hospital to help ease the burden on casualty departments.
Paramedics and GPs can now bypass A&E and send urgent cases straight to the new unit.
Patients are seen by specialist dementia staff, senior doctors, nurses and therapists.
The unit also has social workers who support the patients as they adjust back to life in the community.
"A and E for older patients is not a place to be, because it's fast paced and the doctors and trainees there are not trained to look after older patients and their needs," said Dr Rani Sophia, Consultant Geriatrician, Yeovil District Hospital.
The frail older persons' assessment service aims to discharge nine out of 10 patients into the community without them having to be admitted to hospital.
A similar scheme is running in Poole hospital in Dorset.