Dyrham Park £500,000 appeal to raise money for new roof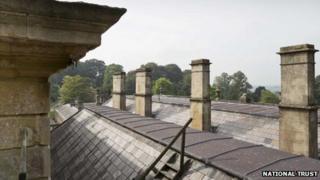 A fundraising appeal has begun to put a new roof on Dyrham Park mansion to protect its collection of 17th Century Dutch furniture, art and ceramics.
Currently, the National Trust-run Grade I listed house near Bath, has plastic buckets catching leaks through the roof.
The Trust estimates it needs to replace 22 tonnes of lead on the roof and 8,000 Welsh slates, at a cost of £3.5m.
The appeal aims to raise £500,000 with £3m already found by the trust.
'Time of the essence'
"Up to 90% of the joints in the roof are leaking now, and patch repairs will just not work much longer," said Eilidh Auckland, Dyrham Park house and collections manager.
"Luckily, the timbers below the roof are currently in a salvageable state, but if the roof is left for much longer, these will also start to decay, threatening the important collection below.
"Preliminary investigations on the roof of the Orangery last week, showed it was in a worse state than originally thought and so time is of the essence."
Dyrham Park was built between 1692 and 1704 by William Blathwayt who was the principal colonial administrator of his age and Secretary at War for William III.
'Historically significant'
Curator Rupert Goulding, said the work was crucial to protect the important collection which had been in the house for 400 years.
"Much of the original collection built up by William Blathwayt has survived to show the house in the style he planned," he said.
"His time in The Hague gave him an appreciation of fine Dutch art and pottery and the house still contains a historically significant collection of Dutch Delftware, 17th-Century Dutch paintings as well as rare leather wall hangings and tapestries.
"The items were gathered to be shown at Dyrham and would lose their significance if we no longer show them here."
The house attracts more than 160,000 visitors each year and will remain open to the public during the building work which is scheduled to start in 2015.