Bath's Dorchester Street bus lane trial begins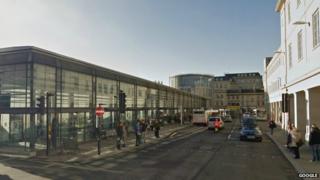 A bus lane trial has begun in Bath city centre in an attempt to reduce traffic congestion.
All vehicles, except buses and taxis, are now banned from using the eastbound side of Dorchester Street.
Bath and North East Somerset Council said the changes would "create a safer, more welcoming environment for people on foot and who use bicycles".
Previously critics said the plan was "poorly thought through" and would "cause chaos" in the area.