Oldbury to Hinkley Point A nuclear waste transfer 'a risk'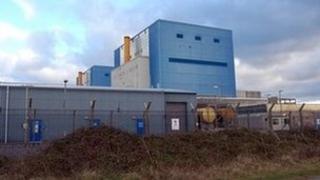 Councillors are being urged to object to plans to transport 70 lorry loads of nuclear waste from South Gloucestershire to Somerset.
The Nuclear Decommissioning Authority (NDA) wants waste from Oldbury Power Station to be processed and stored at Hinkley Point A.
The authority said the move makes financial sense and is safe.
But West Somerset Council has argued extra nuclear waste should not be brought into the area.
Approximately 144 tonnes of the nuclear waste would be transported between the two sites from 2020 to 2022, the NDA said.
The proposals will be discussed next week, when Councillor Chris Morgan, responsible for environment, will recommended the council object to the scheme.
Tim Taylor, the Conservative leader of West Somerset Council, said only waste in-situ within Hinkley A, should be stored on site.
"Any nuclear waste has its risks, and it is also reputational risks as well - risk to tourism and prospects and so on - so we object to any nuclear waste coming from outside," he said.
'Safety biggest priority'
The NDA said using fewer locations would help reduce the overall costs, environmental impacts and timescales of decommissioning.
Bill Hamilton, the head of stakeholder relations at the NDA, added: "Clearly, safety and security are the biggest priority that we have in terms of all of our planning work.
"We have made it very very clear that we wouldn't carry out any of these proposals if we thought there was going to be a significant increase in risk."
The proposals have been made in the NDA's consultation on their preferred options for dealing with nuclear waste, which closed on 31 January.
Plans would include building a new store at Hinkley A for the storage of its intermediate level waste and a new dissolution plant to process fuel element debris (FED), which consists mainly of Magnox metal and graphite.
West Somerset Council said the plant, which does not yet have planning approval, would operate for about five years processing FED waste from Hinkley A and a further two and a half years to process the same type of waste from Oldbury.
The decommissioning of Hinkley Point A started in 2004 and at Oldbury Power Station in 2012.