Catherine Wells-Burr murder: Petition aims to stop Polish transfer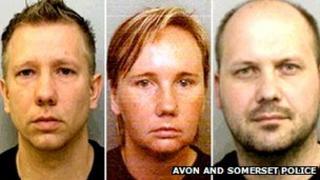 The family of a murdered woman have set up a petition to call for her killers to serve their sentences in the UK.
Rafal Nowak, Anna Lagwinowicz and Tadevsz Dmytryszyn were jailed for 32 years in June for murdering Catherine Wells-Burr in Chard, Somerset.
But Nowak and Lagwinowicz have applied for transfer to Poland where the terms could be cut to 25 years and Dmytryszyn is appealing against his conviction.
More than 3,000 people have signed the petition calling for them stay.
Nowak plotted the murder of Miss Wells-Burr with his ex-girlfriend Lagwinowicz and her uncle, Dmytryszyn, in order to claim a six-figure life insurance policy.
Miss Wells-Burr's mother, Jayne, said the possibility of the trio being transferred to their homeland was "a slap in the face".
"We're just devastated. We didn't expect nearly a third to be taken off their sentence by going home at a lower tariff," Mrs Wells-Burr said.
"To us it is like they are being rewarded, that they can have a clean slate when they go back to Poland and they can start their lives again and really, a life sentence is what we are living."
The Ministry of Justice said the UK has a prison transfer arrangement with Poland and it was committed to seeing more offenders serve sentences in their home country.