Henry VIII's 'last portrait' at Longleat disputed by art historian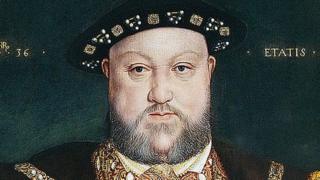 A claim a painting found in Wiltshire was the "last portrait" of Henry VIII has been dismissed by an art expert.
Longleat House, where the work has been on display for more than 300 years, said tests showed it could have been the "last image" drawn in his lifetime.
The king died aged 55 in 1547 and the work was claimed to have been dated between 1544 and 1545.
Art historian Philip Mould said it was "not possible" it was a life portrait and was instead a "studio copy".
Mr Mould, co-presenter of BBC One's Fake or Fortune, said even if it had been painted in the king's lifetime, it was only "derived from a life portrait".
"This appears to be a very high quality studio copy of a work by Hans Holbein the younger," he said.
'Not banged out'
"The original mural, on the wall of the Privy Chamber at Whitehall, was destroyed by fire in the late 1600s."
Despite being inscribed as painted in the 36th year of the king, when the Monarch was aged 54, it was always thought to be a later copy.
However, a scientific study of the growth rings of the boards of the panel paintings showed the wood might have come from trees cut down in the eastern Baltic in around 1529.
Longleat curator Dr Kate Harris said that date "represents" the time "after which the portrait must have been painted".
She added: "It does allow for the key conclusion that the work is of the same date as that implied by the inscription it bears and the possibility it is the last image of Henry VIII drawn direct from the life."
Dr Harris insisted the portrait's "non-standard size" and provenance showed it was not "a banged out studio copy".
According to the estate's archives, the Longleat portrait was bought by the 1st Viscount Weymouth from the Earls of Permbroke in nearby Wilton in the 1680s.