Somerset County Council proposes flood fund boost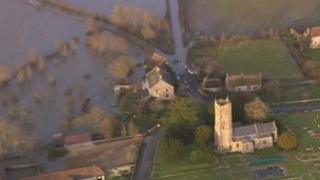 A total of £1m has been proposed by the council for flood prevention schemes in Somerset.
The county council has also issued a "rallying call" to the government and Environment Agency to "dig deep" into their own pockets for a further £3m.
The council has already offered £300,000 for dredging and £200,000 for local flood prevention schemes.
Following a mini flood summit it said a further funding boost of £500,000 has been proposed for river dredging.
Somerset County Council said an extra £3m from the government and the Environment Agency would enable a "comprehensive dredging operation" for the rivers Parrett and Tone.
Lives ruined
Councillors held a crisis meeting with Defra Minister Dan Rogerson, the Environment Agency and representatives of other councils and voluntary groups on Wednesday.
John Osman, Somerset County Council leader, said: "He [Mr Rogerson] has promised to take up our case and we have agreed to a further meeting in Whitehall to continue to fight for significant investment.
"At the moment, we have a community at Muchelney completely cut off, we have a main road impassable through the middle of the county, we have a damaged road bridge, we have thousands of acres of farmland under water - all this means we have many, many people and businesses whose lives are being ruined.
"We must get the government to act and to act quickly."
Mr Osman said Mr Rogerson agreed Somerset has had two years of severe flooding and that "puts it ahead of any other claims for help and support".
The council said dredging work has started to prevent frequent flooding of the A38 near Wellington.
Dead and dying trees were being removed and water redirected near Blackbird Bends where water frequently sits on the road.