Yatton hospital patient's family 'disappointed' by inquest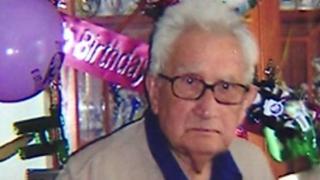 A woman who said her father was not fed properly while in hospital has been "disappointed" a coroner ruled he died of natural causes.
James Bollen, 92, died last May, a month after being admitted to Weston General Hospital, with a stomach bug.
His wife Susanne Bollen said earlier her last memory was of him pressing her hand and begging for food.
The inquest heard Mr Bollen suffered heart failure but was "not malnourished" when he died.
In June, a month after his death, the hospital was issued with two formal warnings by the Care Quality Commission (CQC) to improve its care of patients.
Speaking after the inquest, head of nursing Chris Perry said: "We accepted there were improvements we had to make at that point in time.
"I'm confident we've made those improvements. We are still on a journey and we will continue to make improvements in patient care."
'Concerns ignored'
Mr Bollen's daughter Jane Gill, was unable to attend the inquest at Flax Bourton due to ill health, but she told the BBC she had "fought hard" for it to take place.
The family said at the time Mr Bollen, from Yatton, was "not being fed properly" and claimed that when they raised their concerns, they were "were ignored".
Ms Gill said she had "wanted justice for her father" and maintained the level of care he had at the hospital "wasn't good enough".
The CQC issued warnings about patient privacy and standards of care following inspections in August 2012 and last April.
In June, Weston Area NHS Trust said it had taken "immediate action" to improve care.
Following an unannounced inspection by the CQC in November, the hospital was found to have "met all the standards" set for acute hospital trusts in England.