Somerset County Council child protection plans 'inadequate'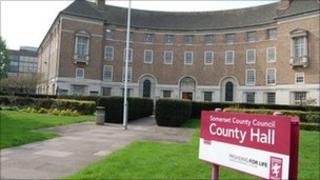 More than a third of Somerset County Council's child protection plans are inadequate, a review has found.
Government inspectors ordered a review of 453 child protection plans after the council was given the lowest rating for its child protection work by Ofsted.
Of those audited, 170 were inadequate, with 250 found to be adequate or above.
The council said all inadequate cases will be re-audited to make sure recommendations for these children have been complied with.
The plans are made for children identified as being at risk of harm and aim to protect the most vulnerable children in society.
Following an unannounced inspection in the summer, Ofsted inspectors told the social services department to review its child protection plans including cases that have been closed in the last three months.
'Very low base'
That work will be discussed at an audit committee meeting on Friday.
Peter Lewis, interim director of children's services, said: "We have been doing some work anyway that has moved us on from the majority being inadequate to the majority being adequate, and that is not to say that that job is finished yet, not by a long stretch, but it is forward and positive movement.
"We started last summer with a very, very low base, and we've had to work hard to build up from that, what the audit committee will see is that there has been that movement."
Ofsted inspectors found that in some cases the child protection plans were being closed too soon and that "very few" plans were sufficiently specific.
Fulfil obligations
In November, the Department for Communities and Local Government also issued children's services with an Improvement Notice.
This gave the council a target of 75% of cases being judged adequate or better through assessment audits.
The review found 170 (37.5%) child protection plans were inadequate, 190 cases (41.9%) were adequate, 58 (12.8%) were good, 2 cases (0.4%) were outstanding.
Thirty-three cases (7.2%) were ungraded.
Mr Lewis said they expect to have fulfilled all the obligations of the notice within about 12 or 15 months.