Portishead gun centre demolition to begin 'any time now'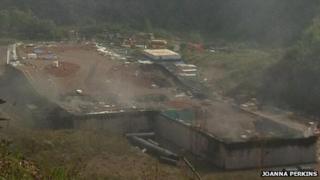 An unfinished police firearms centre damaged by fire in an arson attack last year is to be partially demolished before being rebuilt.
The severe blaze at the £16m Black Rock centre in Portishead, North Somerset, caused the roof to collapse with pockets of fire burning for two weeks.
Partial demolition will start "any time now" before any build can begin, according to Avon and Somerset Police.
An anarchist group initially claimed responsibility for the blaze.
However a police investigation, into what Chief Constable Nick Gargan regarded as "an act of domestic extremism", is yet to determine who or what was responsible.
When finished, the training centre will contain indoor firing ranges and classrooms and is to be used by the Avon and Somerset, Gloucestershire and Wiltshire forces.
It had originally been due to open this month but is now expected to be completed by June 2015.