Tessa Munt MP questions Bishop of Bath and Wells' palace move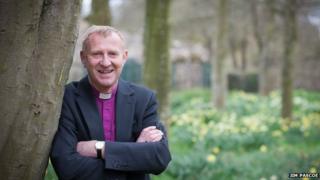 An MP has written to the Church of England asking why it is relocating the Bishop of Bath and Wells from a flat in the Bishop's Palace.
Wells MP Tessa Munt described the decision to move the bishop from the flat in the 800-year-old palace as "extraordinary".
Church commissioners say it will help the new bishop "carry out his ministry and mission in a more sustainable way".
The Right Reverend Peter Hancock will work and worship at the palace.
'Remote location'
"We have been blessed with effective and engaging bishops for as long as I can remember, and the palace provides a unique, atmospheric and contemplative environment for those involved in its life, including the many visitors," said Ms Munt.
"One of the charms of the palace was the possibility that one might just run into the bishop or his wonderful wife in the grounds, and in my view, it is a great shame that the chances of being blessed in this way are reduced almost to nothing.
"It seems extraordinary - at a time when the church insists it is trying to reach out to people - that the church commissioners have made a decision to remove one of its most public figures to a more remote location and at a distance from the very folk it says it wants to attract."
Andrew Brown, secretary to the church commissioners said the decision to move the bishop's home would mean he could live in more privacy and the palace and gardens would remain open to the public.
"We are currently looking at an alternative residence near to Wells," said Mr Brown.
"The daily working life of the palace will continue including the use of the chapel alongside the work of the trust running the palace as a visitor attraction."