Pilrow wind turbine proposal public inquiry opens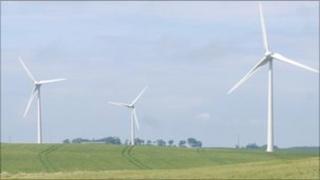 A public inquiry has opened into plans for a new wind farm on the Somerset Levels.
Last April, Sedgemoor District Council turned down an application to build four 426ft (130m) turbines at Pilrow, submitted by Broadview Energy Limited.
The authority said the turbines would be a visual intrusion on the landscape and would be within the flight path of protected wildlife sites for birds.
The inquiry, held by the Planning Inspectorate, is listed for eight days.
The plans were recommended for rejection by planning officers at Sedgemoor District Council.
Reasons listed include that the "character of the landscape will be significantly undermined and harmed" and the "adverse landscape impact cannot be mitigated against with additional landscaping or other measures".
Planners also noted "the application site is situated between internationally designated sites at the Severn Estuary and the Somerset Levels and Moors" and said the authority "is unable to conclude that there will not be a significant effect on bird populations".
A residents group was set up objecting to the location of the proposed wind farm and claiming it would make "minimal or no net contribution to the reduction of carbon production to address climate change".
Broadview said the turbines would generate enough electricity to power 7,560 homes.
A decision will be published in February.