Flood water affects all major roads into Yeovil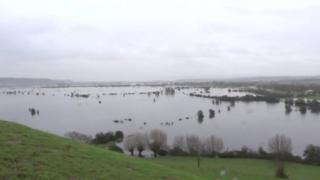 All major roads into Yeovil have been affected by flood water, police have warned.
Officers are advising against travel to and from the Somerset town unless essential.
They said the A359 and A37 were impassable and drivers ignoring road closure signs were getting stuck.
Thousands of acres of the Somerset Levels are also completely submerged and the Environment Agency has brought in extra pumps from around the country.
Newton Road in Yeovil was said to be under 2ft (0.6m) of water. Police said there were now no alternate routes into the town.
The road through Woolverton was also affected by flooding as was Charlton Mackrell, Wallbridge in Frome, and the A356 at Chiselborough.
Of the Somerset Levels, Jim Florey from the Environment Agency, said they could not begin pumping out water until the river levels dropped.
"The problem is, because the rivers are so full, they're at the same level as the water that's on the moors.
" So, if you were to start pumping into the river all that happens is that water spills back onto the moors."