AgustaWestland workers 'hurt' as India axes helicopter deal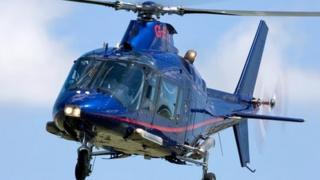 Workers at AgustaWestland's helicopter factory in Somerset are "deeply hurt" after the Indian government cancelled a $753m (£455m) contract, a union says.
Twelve aircraft were ordered from the Yeovil plant but the deal collapsed amid claims officials were bribed.
Three of the helicopters have already been delivered to India and the remaining nine were due to be dispatched by the middle of 2014.
Joe Conway, from Unite, said the firm's reputation had been damaged.
The Indian government stopped payments in February following allegations that bribes of almost $67.6m (£41m) were paid to secure the contracts.
The luxury helicopters were intended to carry the Indian president, prime minister and other VIPs.
'Worried workers'
Mr Conway said: "It's difficult. People are deeply hurt by it.
"People are worried. My guys who make them - they've done their work and it doesn't mean that much right now but our reputation has been damaged in Yeovil.
"I've been here 40 years and nothing like this has ever happened."
He said jobs at the firm were not likely to be under threat as a result of the cancellation, as the company had other deals in place with the Norwegian government.
Yeovil's Liberal Democrat MP David Laws said the Indian government should have waited for proof before pulling out of the deal.
He said: "In my view it would have been preferable to give time to establish the veracity of the allegations which have been made before taking any action.
Firm denies wrongdoing
"I've spoken to the chairman a couple of times over the last two days - we know that the Indian government is talking about putting in place a process of arbitration between it and the company.
"That holds out some last hope of getting a resolution of some aspects of this but we don't know what the arbitration is about and how extensive it will be.
"It is a blow but we mustn't get things out of perspective.
"International confidence in the company and the quality of its products is still very, very, high and that bodes well for the future."
Giuseppe Orsi, the former chief of AgustaWestland's parent company Finmeccanica, and Bruno Spagnolini, the former head of AgustaWestland, are being tried in Italy on fraud and corruption charges in connection with the deal. They both deny any wrongdoing.
A Finmeccanica spokesman said the firm would "do everything that would be necessary to defend the correctness of our position", adding: "We're sure our behaviour was ethically correct."