West Somerset Railway future 'secure'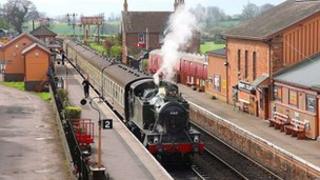 The immediate future of a heritage railway in Somerset is secure because of an increase in ticket sales during 2013, its general manager has said.
Paul Conibeare said they were "about £50,000 up on the fares budget which is just over £2m".
The county council is currently considering selling off Minehead's West Somerset Railway (WSR), which is run by West Somerset Railway plc.
A decision is expected at the end of January.
Independent councillor Mike Rigby has said previously that, whatever the outcome, the council needed to be "very sure that the railway can continue to operate".
He said there was a bid in from the West Somerset Railways Association, a support charity, and a bid from the West Somerset Railway plc.
Mr Conibeare said: "That £2m in sales at the ticket office just about keeps the railway going with the coal, salaries and expenses we have throughout the year. Without that we couldn't survive.
"Any profit we make is reinvested in the business."
He said the heritage line had also been left more than £1.7m over the last five years through people's wills.
The 20-mile (32 km) line between Minehead and Taunton was closed by British Railways in 1971 as part of the Beeching cuts.
The following year, the council bought the branch line and leased it to the WSR.