Wellington newsagent sets up local post service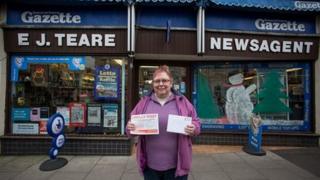 A newsagent in a Somerset village has set up its own local postal service guaranteeing next-day delivery for half the price of a first-class stamp.
Lorraine Lettley, 62, and daughter Trish, 37, run E J Teare newsagents in Wellington and set up Welly Post after customer complaints over stamp prices.
In a fortnight they have personally delivered 4,000 letters within a two-mile radius for 30p per item.
A first-class stamp is 60p. Royal Mail said it ran an "affordable" service.
Trish Lettley said: "Last year we noticed we had sold fewer Christmas cards than usual and after speaking with customers we found that the reason was because of the cost of stamps."
'Very tough time'
She said the past few years had been "a very tough time for newsagents" and they wanted to "increase footfall".
Ms Lettley said: "We thought, we do deliveries from the shop anyway - so why not offer even more of a service to our customers?"
Her father Richard, 66, delivers to half the town on his bike and cycles for about two hours a day "to make sure cards arrive on time".
She drives to the outlying villages and her mother covers the town centre.
For 10p extra they will collect post from customers' homes.
Ms Lettley said they were pleased after selling 12 stamps on the first day, but that it all "went crazy" after they placed an ad in the Wellington Weekly News.
The family are now sending 250 cards a day and said their daily turnover was more than £75.
"We're not going to become millionaires off this or run the Royal Mail out business.
"But it's great how well the scheme is going and how it has brought everyone together," Ms Lettley said.
A Royal Mail spokesman said: "Royal Mail is proud to serve communities across the UK.
"We deliver the affordable, six-day-a week universal service to 29 million addresses, which links villages, towns and cities together."