Afghan Heroes charity faces funds probe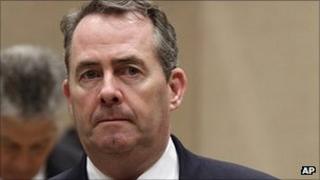 Former Defence Secretary Liam Fox has resigned as patron of an armed forces charity after discovering it is under investigation.
Somerset-based Afghan Heroes is being scrutinised by the Charity Commission for possible financial misconduct.
The North Somerset MP said he had not been made aware of an investigation and could no longer act as patron because of a "breakdown in trust".
The charity helps former armed forces personnel and their families.
It has not commented on Dr Fox's resignation.
As part of the Charity Commission's investigation, legal action has been taken to stop the charity's bank accounts being used and any of its property being disposed of.
Charity founder Denise Harris said: "Full financial disclosure and access to our records have been made to the Charity Commission, who will report in due course."
'Busy period'
Mrs Harris said the inquiry would reveal whether anyone within the organisation had "made any mistakes or mismanaged anything during an incredibly busy period for us".
She added that the best interests of recovering personnel were "uppermost".
Afghan Heroes was registered with the commission in October 2009.
During the financial year ended on 31 December 2012, the charity received £548,440 in income and spent £516,288.
It spent £474,924 on generating funds in 2012 and £15,153 on charitable activities. A further £26,211 was spent on governance costs.
During that period it employed eight full-time and 16 part-time members of staff at a cost of £190,479.
The inquiry started on 22 November.