Desert Rats sculpture created from scrapped army vehicles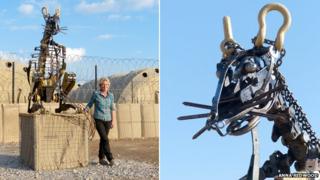 A sculpture of the famous Desert Rats insignia has been created from parts of armoured vehicles used in Afghanistan.
Anna Redwood took a month to create the 11ft (3.3m) artwork at Camp Bastion.
The Somerset artist said the work, created to "commemorate the origins" of the brigade, was "very different" from her usual oil paintings.
The sculpture is of a jerboa, which became the 7th Armoured Division's insignia after a desert campaign in North Africa in World War Two.
The work weighs half a ton and will remain in Afghanistan until the brigade ends its tour of duty next year, when Mrs Redmond hopes it will be part of an exhibition in London to coincide with the brigade's homecoming.
"The aim of the sculpture was to commemorate the origins of the brigade, which was raised in the deserts of Tunisia in 1942," she said.
She said that Afghanistan had been "incredibly beautiful but very harsh", adding that she felt like she had "drilled through the middle of the earth" to somewhere that resembled a moonscape.
"There is no colour at all. It is grey and dusty," she said.
The 7th Armoured Brigade began its final Afghanistan tour in October, with the job of packing away forces' equipment ahead of the final British pullout next year.