Bath historians given 'rogues' gallery' of prisoners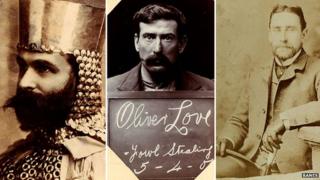 A rogues' gallery of prisoners in Bath at the turn of the 20th Century has been made available for family researchers.
Among those featured are Oliver Love, who in 1911 was convicted of stealing items including ducks and fowl.
Bath police took the pictures between 1892 and 1922 to help them recognise known criminals and repeat offenders.
Archivist Colin Johnston said: "People researching their family history are very excited by criminal ancestors."
'Black sheep'
Other villains included are Frank Albert Smith who was charged in 1894 with embezzlement.
Bizarrely, his photograph shows him dressed as a knight in armour.
Mr Johnson, who works in Bath and North East Somerset Council's record office, said researchers would rather find a "black sheep" than aristocracy or royalty.
"We hope this new online resource on our website will be a big hit with anyone looking at family or social history in Bath," he added.