Group bid to revive Porlock's oyster tradition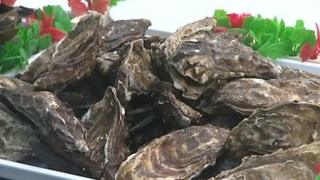 Volunteers are trying to revive a Somerset village's tradition of harvesting shellfish, which died out almost 100 years ago.
They plan to lay their first set of oysters and mussels off the coast of Porlock in March.
Alan Wright said they had spoken to the Shellfish Association of Great Britain, which said it was a "sensible idea in a sensible place".
He added any money made would be put back into other community projects.
David Jarrod, from the Shellfish Association, said: "This sort of venture is absolutely fantastic and is why we were so supportive of it.
"It's good for local jobs and a very benign way of protein production."
David Salter has spent the past 10 months researching the idea.
"It's quite amazing the little oyster can filter 50 litres of water a day - it takes its food from the sea - you don't have to give it anything it's just a win-win situation all the way," he added," he said.