Somerset M5 pile-up: Inquest into deaths to resume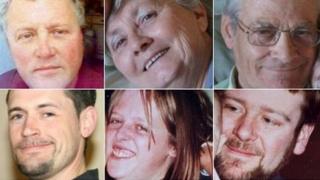 An inquest into the deaths of seven people in a pile-up on the M5 in 2011 will be completed in the spring.
West Somerset coroner Michael Rose said he would resume the inquest following the acquittal on Tuesday of firework display organiser Geoffrey Counsell.
Mr Counsell denied breaching health and safety laws over the Taunton display he was running at the time of the crashes.
The inquest was initially opened on 10 November 2011. It will resume on 31 March next year, lasting several weeks.
Seven people were killed and 51 people were injured in the pile-up involving 30 cars which crashed after becoming engulfed in thick fog on the M5 near Taunton.
Those who died were grandparents Tony and Pamela Adams, from Newport, south Wales; father and daughter Michael and Maggie Barton, from Windsor, Berkshire; battle re-enactor Malcolm Beacham, from Woolavington, Somerset; and lorry drivers Terry Brice, from South Gloucestershire, and Kye Thomas, from Cornwall.
Two hundred yards away from the motorway, Mr Counsell, 51, from Ashill in Somerset, had been operating a firework display at Taunton Rugby Club.
At Bristol Crown Court on Tuesday, a judge ruled there was insufficient evidence to show he ought to have foreseen that smoke could have drifted and mixed with fog to create thick smog.
After having his name cleared, Mr Counsell said he believed the decision to prosecute him was "motivated by a desire to find someone to blame" for the accidents.