Somerset museum seeks kamikaze insignia translation help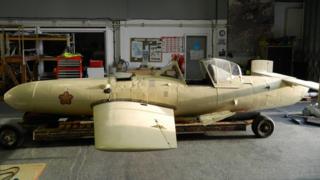 A museum which owns a rare Japanese kamikaze aircraft is appealing for help to decipher its "intriguing markings".
Only recently, after 30 years of hanging from the rafters of Somerset's Fleet Air Arm Museum, have questions been asked about the Ohka 2's emblems.
It has been taken down to make room for a new exhibition and to undergo work to uncover its original paintwork.
The museum said a closer inspection of the aircraft revealed the markings and it would like help to translate them.
"There are thought to be fewer than 12 Ohka 2 kamikaze aircraft in existence today," said a museum spokesperson.
Kamikaze is Japanese for "divine wind".
The Ohka 2 aircraft were used towards the end of World War Two, fixed to the underside of bombers, flown to a height of 12,000ft (3,658m) and then released.
Speeds of up to 475mph (764kmh) were reached over a distance of 21 miles (33.8km) which it could travel to reach its target.
About 800 of them were built, to be used by Japanese suicide pilots who crashed them into allied ships. Other kamikaze missions used existing conventional aircraft.
The museum was loaned the Ohka 2 by the Science Museum in London in 1982, and it has been on display ever since.
It is thought it was captured in the Pacific by allied forces.
More than a tonne of explosives was contained in the nose of the vessel.
Jon Jefferies, from the museum, said: "It is chilling to look through the cockpit window of this piloted rocket and through the ringed sight.
"There's a grab handle fixed to the inner wall of the cockpit as acceleration generated by the three solid fuel rockets would have been incredible."
The two unknown markings are on the left side of the aircraft and also on a hatch cover.