Geoffroy's bat 'discovered' on Bath nature reserve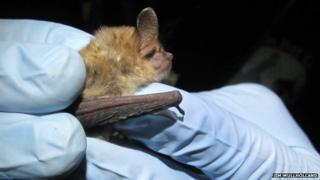 Bat experts believe they have found a bat living on a nature reserve near Bath which was only discovered for the first time in the UK last year.
The solitary male Geoffroy's bat, which is usually found in continental Europe, was recorded at Avon Wildlife Trust's Brown's Folly.
Samples of its droppings have been sent for DNA analysis to validate the discovery.
The bat was recorded on the South Downs of West Sussex in September 2012.
The species (Myotis emarginatus) is generally found across the Mediterranean, Belgium, and southern parts of the Netherlands, Germany and Poland, as well as northwest Africa and the west side of Asia Minor.
Brown's Folly is well-known for bats with 13 of the 17 UK bat species recorded there including the greater horseshoe and Bechstein's.
"Not only is it the second record for the UK, but being so far inland makes it less easy to dismiss as a vagrant," said Jim Mullholland, of Avon Bat Group found the bat.
"Given the sedentary nature of the species, which typically only travels up to 25 miles between its breeding area and hibernation site, this find provides bat experts with hope that Geoffroy's bat is now resident within the UK."
A key distinguishing feature of the Geoffroy's bat, which is named after the French naturalist Etienne Geoffroy Saint-Hilaire, is the notch on its ear.
The 100-acre Brown's Folly reserve is a Site of Special Scientific Interest, has wildflower-rich grasslands and ancient woodlands.