Taunton's Brewhouse Theatre to be reopened by community group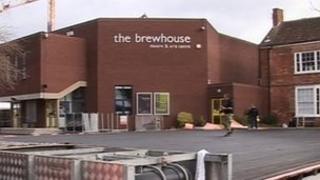 A theatre which closed after its financial position became "untenable" is to be run by a community group.
Taunton's Brewhouse Theatre shut in February and since then, leaseholder Taunton Deane Borough Council has been asking for expressions of interest.
A meeting of the borough council has agreed to grant a five-year lease to the Taunton Theatre Association (TTA)
The not-for-profit organisation was set up after the closure of the Brewhouse and was the only group to come forward.
Val Hammond, from TTA, said the news was "absolutely great".
"I'm also slightly daunted... now we've got really got a mountain to climb because there is a lot to do.
"But it will be very exciting work," she added.