Somerset M5 deaths crash: A survivor tells his story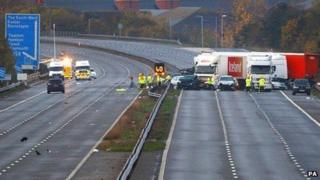 As the organiser of a fireworks display, accused of failing to ensure drivers' safety on the M5 motorway before a fatal 34-vehicle pile-up, is told by a judge he has no case to answer, one survivor remembers the night of the crash.
"We were sat in the car, tense, waiting to be hit from behind, as you could hear crashes pounding in all around us," Tom Hamill remembers.
Mr Hamill was driving to Glasgow with his partner and father when their journey came to an abrupt halt on the M5 in Somerset, on 4 November 2011..
He remembers hitting "a sheet of fog" and the car in front disappearing from view, before he saw a lorry jack-knifed across the road ahead.
'Horror unfurled'
Two or three cars had already crashed into the lorry, but that was just the beginning of a multiple pile-up that was to involve 34 cars, seven deaths, and injuries to 51 further people.
Geoffrey Counsell, 51, from Ashill, Somerset, was charged with failing to ensure the safety of others during a fireworks display he had organised at Taunton Rugby Club, near the motorway, that night.
But, a judge at Bristol Crown Court has ruled there was no case to answer.
Mr Hamill has vivid memories of the rescues he made and those he had to leave behind in the resulting "inferno".
"I really slammed on the brakes - presumably the car that had just gone ahead of me had hit the lorry - and stopped with time enough to pull into the central reservation," he said.
"Then the horror of what was happening unfurled. As the mist sort of moved away, more and more of what had happened was revealed.
"You could see pockets of cars that had already crashed all the way around."
He remembered hearing sirens shortly after he and his partner decided it was safe to get out of the car which, despite the chaos, had not been struck.
"Clearly, lots of people had been injured, trapped in cars, my dad was in the back of the car with a broken leg (sustained prior to the crash).
"There was a woman screaming, shouting 'someone please come and take my baby'.
"Her husband was trapped in the car, she was struggling to get him out... so I helped her get the young one out of the car and helped her husband get out the car.
"All the time there were accidents happening all around and people trapped, there was a lot of chaos at the scene, a lot of people shouting for help."
'Acrid smell'
But, the chaos was about to escalate to another level as fire broke out.
"From where I was, at the back of one of the lorries, a lick of flames shot up from the rear of the lorry and that very quickly spread along the whole canvas side and up towards where my car was and where my dad was still trapped in the back," Mr Hamill recalled.
"There was an acrid smell, the dampness of the fog was still there and suddenly it was much blacker because of the smoke coming from the lorry.
"It became very apparent, very quickly, that those people that were still in cars, or in cabins, were going to be trapped and there became a sense of urgency.
"Suddenly, when you thought you had time to compartmentalise things that were in front of you, things had to happen now and now and now, because the fire brings a whole new element of danger that wasn't perhaps there before.
"My job then really was to get as many people away, with [my partner's] help obviously, from that scene as possible.
"There was a gentleman who was caught in the central reservation who I kind of just had to leave, who it turned out was OK, but at the time you feel like that's going to be a massive regret.
"The fire spread so quickly, there was no time once that fire had started."
Fuel tanker rumour
Mr Hamill said explosions started coming from some of the lorries and rumours spread about a fuel tanker being involved.
"The reality of it actually becomes worse because you're unsure of your own perception and that's when people can start to panic," he said.
"You always feel like you can do more to help anyone that's screaming for help but, because of the length of the accident and because of those rumours spreading about there being a fuel tanker, by the time we had got people at a safe distance... by the time I started turning to go back, the fire had gone from being flames to an inferno.
"That's the point where you realise that all those people that are still there, their chances are very limited."
He said certain things - smoke, driving in fog, the sound of a crash - take him straight back to the beginning of the incident, "being frozen in that car and me saying 'stay in, don't get out of the car', because if we had got out the car we would have been hit".
"You're basically in a tin box with nothing to protect you and you're waiting for that moment of impact and waiting to see what that outcome is going to be for you."
Mr Hamill said he was unable to sleep properly for six months, but that psychological trauma had slowly ebbed away.
"The students at the school where I work are very curious about what happened, as are the staff, in fairness," he said.
"They see the footage from the news, see me in the news, so I'm always having to retell parts of the story for them and in some ways that's therapeutic."