Norland nannies uniform gets first restyle in 70 years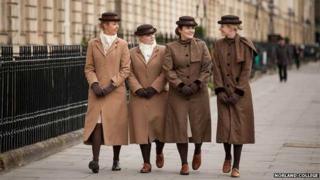 A Bath college which has been training professional nannies since 1892 has changed its uniform for the first time in 70 years.
Norland Nannies are famous for their brown Mary Poppins-style uniforms.
The new uniform, designed by Somerset-based Lauren Cope, has been updated to be more practical and flattering but keeps the brown and beige palette.
"We wanted a uniform which would appeal to modern-day students," said Liz Hunt, principal of Norland College.
The Norland uniform has been many colours over the years, starting as grey and pink, which quickly changed to blue to distinguish Norlanders from hospital ward maids.
In 1910 the cloak became brown and then over the years hem lines rose from ankle to knee along with the fashions.
"The uniform was a really important factor when choosing to come to Norland College, the new uniform is much more flattering and contemporary than the old uniform," said trainee nanny Ellis Carveth, 19, from Newbury, Berkshire.
"There are really strict guidelines on our uniform when we are studying at the college and I think that's really important as it means we always look smart and very professional."
As well as everyday skills such as first aid and fitting car seats, the nannies' three-year degree programme includes lessons in self-defence and how to deal with potential kidnappers including driving on a skid pan at the Castle Combe Racing Circuit in Wiltshire.
The college - founded by Emily Ward - was the first to offer childcare courses.